Back On Trac
Manufactured in the USA and distributed by ERGO-FLEX Technologies, the BACK ON TRAC equipment provides non-invasive back pain therapy. The unique innovative design offers safe effective stretching of the spine in conjunction with the unilateral/bilateral flexion. The added benefit of vibration and heat makes our system one of a kind. The therapeutic exercise can help improve flexibility and mobility while the vibration component is not only relaxing to the patient but can stimulate circulation and the nerve pathways.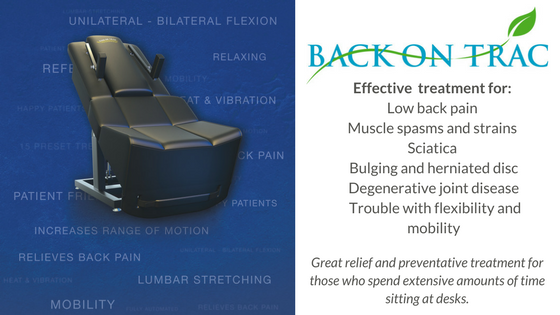 Back On Trac (BOT)
The BOT is a unique system that provides a wide range of treatment options to aid in the relief of chronic back pain. It gently stretches the spine, joints and muscles in the back, neck, hips and thighs.
Achieve great results for bulging and herniated disc, degenerative joint disease, sciatica, facet syndrome, spondylolisthesis and scoliosis.
Increase range of motion, flexibility, mobility, and circulation.
Improve alignment, and fluid/blood supply to discs.
Back on Trac has no cumbersome restraints and has added therapies of heat and vibration making it a very comfortable, relaxing therapy session.